See on Scoop.it – What Is Tennis Elbow?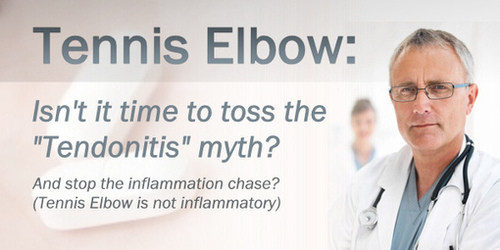 Research has unequivocally shown that chronic Tennis Elbow is usually NOT inflammatory in nature, so isn't it high time to abandon the inflammation-fighting approach – And the myth it's based on?
TennisElbowClassroom's insight:
Medical researchers have been reporting for decades that Tennis Elbow (at least in its chronic form) is rarely an inflammatory condition, and that the terms 'TendonITIS' and 'EpicondylITIS' are misnomers – but is anyone listening? Are the prescriptions for anti-inflammatories and the Cortisone shots decreasing? Does the "Left hand" of medicine know what the "Right hand" is doing and writing?
See on storify.com